Merry Christmas!

Happy Holly Bloggy Christmas!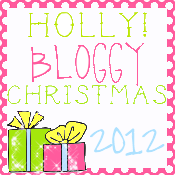 Click on the picture above to see all of the wonderful gifts that were exchanged!
Last year, I remember reading posts about the Holly Bloggy Gift Exchange and thinking that it sounded like fun.

I am so glad that I decided to participate this year!

I loved the idea of "A few of my favorite things". My partner was Chrissy from
http://firstgradefoundme.blogspot.com
.

Here are a few snapshots of what I sent her and why!
1.
I saw the post-it frame holders on someone's blog and on Pinterest this past year and I have since made one for myself at home, one for myself at school, one for my assistant last year, and one for my assistant this year!

SO, I obviously decided that my exchange partner needed one as well!
2.
I drink a TON of water all day at school and I love these cups with the lids.

I found this super cute one and thought I would pass it along to my blogging buddy!
3.
Whisper Bell- If you are not familiar with the Whisper Bell, you need to go to
www.teachertipster.com
and learn about the Whisper Bell!

I LOVE mine and it works wonders.

I hope my Holly Bloggy Exchange partner enjoys hers too!
4.
Last, I thought I would throw in a little something that Chrissy said she loves.

She said she loves cats and that Splat is one of her favorite.

Scholastic was having their warehouse sale and a bunch of teachers and I went to it a few weeks ago.

I found these and new I should grab them for her.

You can never have too many of your favorite books!
I loved sending off my goodies, but it was just as exciting as seeing a package on my door step! My partner was Erin from It's "Owl" Good in Kindergarten, and she sent me some fabulous goodies!

I have to admit though, that I am out of town for Christmas, so I had to open it a little early!

Ooops!
I received the cutest blue letter K with green and white polka dotted ribbon! Since I peeked and opened it early, my K is already on my classroom door and I have gotten a bunch of compliments! I also received an adorable owl and the reindeer baggie is filled with the flat marbles. I LOVED my gifts!
I have had a great holiday so far, even though it hasn't all been too traditional, it will definitely be memorable! (Right Mom?!) We have had a lot to laugh about at least! I have just been happy to be around family and friends and look forward to being on vacation until Sunday. I hope you are all having a wonderful holiday as well!
- Michelle